Green Sea Turtle Video Tag Components
The Arribada Horizon ARTIC R2 Developer's Kit was developed by Arribada to unlock access to open source Argos telemetry.
The kit includes an Arribada Horizon GPS biologger and our new pre-certified Argos ARTIC R2 transmitter. Using our Python command line tool and supporting documentation, you can get up and running quickly and easily.
We wanted to deliver a plug-and-play solution for engineers, students and developers wishing to integrate Argos telemetry into their own solutions, or to modify the hardware to create custom devices as both the hardware and software is open source.
Co-developed together with the Zoological Society of London, the same kit was used by the National Geographic Society to track plastic waste leaving the Gange's delta as part of their Sea to Source Expedition.
Additional information
| | |
| --- | --- |
| Weight | 150 g |
| Dimensions | 12 × 8 × 3 cm |
| Contains | (1x) Horizon GPS, (1x) Argos ARTIC R2 Transmitter, (1x) cable assembly, (1x) microUSB cable |
Inside the developer's kit you'll find an Arribada Horizon GPS logger, (1x) Argos ARTIC R2 transmitter (1x) cable assembly and (1x) microUSB cable. The larger board is our nRF52840-based Horizon GPS logger. This acts as the control board and is programmable over USB to configure both the GPS and the Argos transmitter's settings. The second smaller board is the Argos ARTIC transmitter itself. It is connected to the Horizon board using the picoblade cable assembly.
You will need to connect a lithium-ion or lithium polymer battery with a standard JST header. The Argos transmitter receives power from the Horizon board.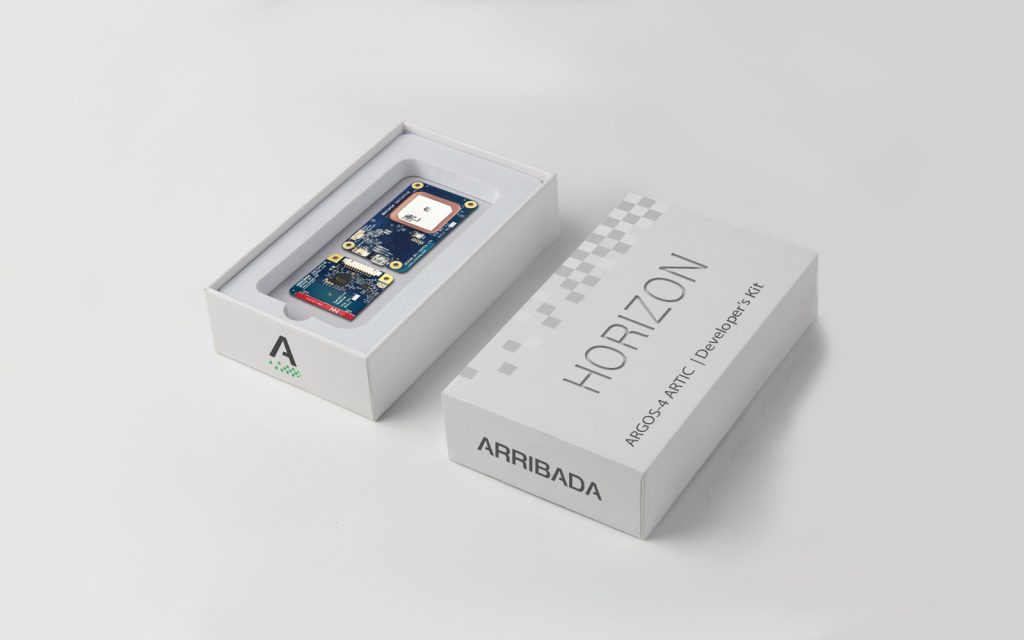 Price excludes VAT.
VAT @ 20% is applicable if purchasing within the UK.
Open source Argos telemetry
Plug-and-play out of the box
We've interfaced an Arribada Horizon GPS together with our new Argos ARTIC R2 transmitter to get you up and running quickly, compatible with next generation ARGOS-4 satellites and the future Kineis constellation of nanosatellites.
Developer friendly
Configure and modify settings using our straight forward Python tools over USB, or use the built-in Bluetooth 5.0 to communicate with the tag wirelessly.
Integrate into your custom solution
After evaluation, connect the Argos ARTIC transmitter to your own custom device / solution and integrate with your own hardware and microcontroller without having to re-spin the board.
Develop your own custom satellite-enabled GPS logger
Mount the kit's hardware inside your own enclosure and benefit from the Horizon board's low idle current (37uA) for projects that require long-term GPS logging with satellite backhaul.
Dimensions
Horizon GPS board | 56mm x 35mm
Horizon Argos ARTIC board | 35mm x 35mm
Technical
Insight SiP nRF52840
Argos ARTIC R2 transmitter with U.FL socket
Bluetooth 5.0
uBlox GNSS NEO-M8N
J266 ceramic patch antenna
Li-ion / LiPo charging
1 x USB2 for configuration / log access
1 x I2C for surface mounted third party sensors
Accelerometer, Gyroscope, Magnetometer, 9 Axis (BMX160)
Temperature
Salt water switch
Magnetic reed switch
Picoblade connectivity
Shipping Information, Lead Times & Import Taxes
Units in stock are shipped within 1 – 3 days internationally. We use UPS as our courier service.
The lead time to manufacture new boards is 4 – 6 weeks when out of stock.
For more information regarding shipping and lead times feel free to contact us.
The product is manufactured by the Arribada Initiative C.I.C, a UK Community Interest Company that is VAT registered, so UK VAT is added if you purchase within the UK. If purchasing abroad, VAT is not included with the purchase as you will pay local VAT based on the country you select to ship the kit to.
You are responsible for paying the importation taxes / duties associated with importing the product based on your delivery / shipping address.